Welcome to our website!
We hope you will be able to find out lots of information about our school and what we have on offer for parents, children and the local community.

---
Risk Assessment for COVID-19
Please find below a link to our updated risk assessment for COVID-19. Best wishes, Mrs. Parkes
COVID Risk Assessment updated October 2020
---
A message from Mrs. Parkes regarding our first half term and our plans for November
We are pleased to share this latest video about our first half term of the year and also an update about our plans for November. Many thanks, Mrs. Parkes
---
A huge 'thank you' from the Black Country Food Bank
Yesterday, our Food Bank Ambassadors proudly delivered an amazing 339 kilograms of donated food to the Black Country Food Bank, who were overwhelmed by your generosity. Thank you all so much for your kindness, Mrs. Parkes x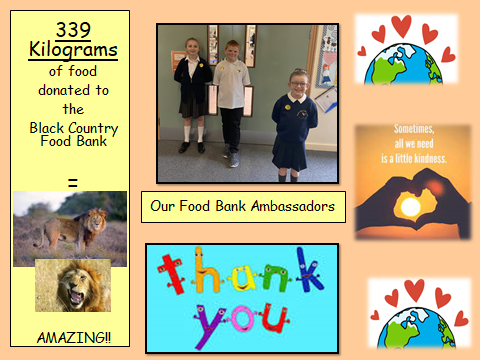 ---
Some wonderful news to share!
We are extremely proud of this video featuring children from Wren's Nest, who have participated in a national initiative to promote how eating a healthy breakfast helps them to reach their full potential.
We are so grateful to Magic Breakfast for sponsoring our breakfast club. Best wishes, Mrs. Parkes
---
Thank you for your generosity!
This video message is to thank you so much for your fabulous donations for the local food bank which has been part of our Harvest time celebration in school.
As a school, we are overwhelmed by your generosity. Thank you, Mrs. Parkes x
---
Request a paper copy
If, as a parent or carer of a pupil attending this school, you require a paper copy of the information on this website, we shall provide this free of charge.
---
Following our Ofsted inspection in November 2016, we are delighted to announce that the HMI (Her Majesty's Inspector) concluded that Wren's Nest continues to be a 'GOOD' school. The HMI has shared his findings with me in the following letter:
At Wren's Nest we want our children to love their learning and grow into capable, young people who have an excellent set of academic and social skills, giving them sufficient knowledge and competences for future learning and employment.
Wren's Nest school really is a community of learning for all ages. We offer lots of opportunities for parents and members of our community to take advantage of a full range of adult education courses. These courses are offered without charge, and are delivered in our dedicated adult training room.
If you are interested in finding out more about us, please continue to browse our website.
We pride ourselves on being a friendly and welcoming school – so please feel free to contact us on 01384 818515 and come and visit us.