Welcome to our website!
We hope you will be able to find out lots of information about our school and what we have on offer for parents, children and the local community.
Latest Information
Our website now includes a page dedicated to providing regular updates, links to educational resources, videos and messages from your teachers and lots of other useful information whilst you are not able to be at school during the Coronavirus – LATEST INFORMATION.
---
A very important message for you all regarding our school's phased reopening from Monday 1st June 2020
Dear Children, Parents and the Community of Wren's Nest,
I am pleased to finally be able to share this very important video message regarding our school's phased reopening from Monday 1st June. Best wishes, Mrs. Parkes.
---
A very special video message from the staff at Wren's Nest!
Dear Children, Parents and the Community of Wren's Nest,
This is a very special video message from all of the staff at Wren's Nest. We hope you enjoy watching it as much as we did making it for you.
Please continue to stay safe, and we hope to see you all very soon.
Lots of Love, Mrs Parkes x
---
For our children
Here is a special poem for all of our heroic children who are staying at home during these unprecedented times. You are all amazing! Lots of Love, Mrs Parkes x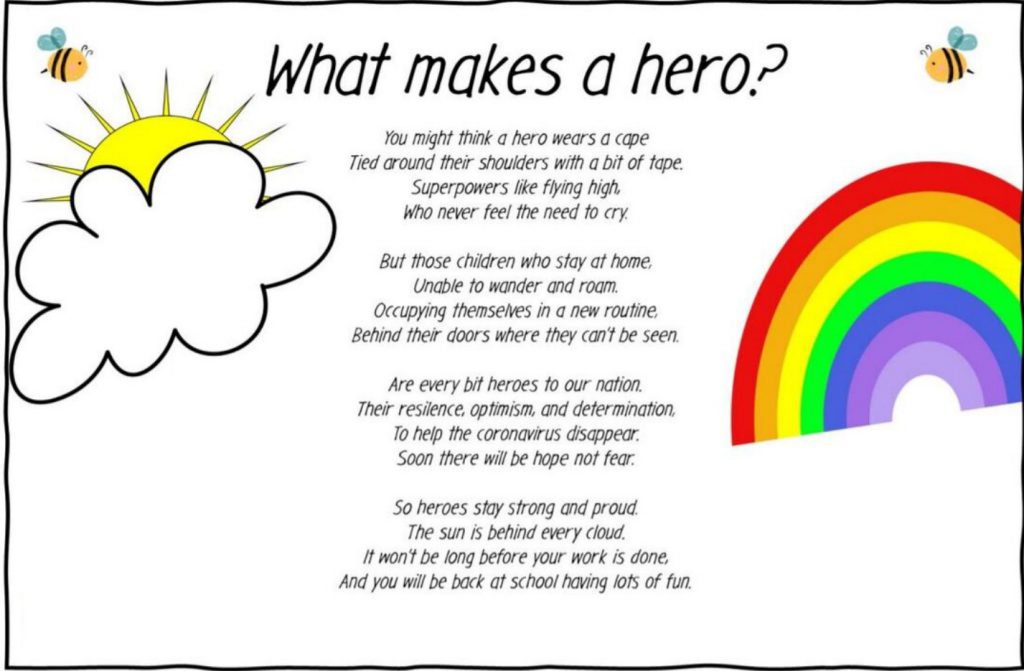 ---
A message for our children from Mrs. Parkes


please read and share
Thoughts of a Headteacher
For our children – the children of Wren's Nest…
On the twentieth of March, twenty-twenty,
I was told that I had to shut school,
I really did not want to close us,
But had to follow the Government's big rule.
I knew it was going to be difficult,
And it all felt so scary and unknown,
But we made the most of our last day together,
Before I sent you all off, safely home.
We've still been here for a few children,
Making sure that they have a great time,
Doing things that we don't always get time for,
In the great outdoors, under beaming sunshine.
I've missed you so much since you left us,
And I think of you in all that I do,
Nothing seems quite right with no children,
And I can't wait to be reunited with you.
I miss the daily 'hello' and 'welcome',
And the big rush to all get inside,
Seeing no bags and coats hanging down on the pegs,
The cloakrooms just feel empty and wide.
Daily phonics has stopped with your teachers,
When you learn how to read, spell and write,
The pride on your faces as you learn new words,
And knowing that you're getting it right!
Assemblies in the hall are missing,
When we gather, talk, listen and share,
Coming as one to give thanks for each other,
Sing songs, reflect and show we care
Our playground is big, grey and empty,
And the field is all lonely and bare,
Your games and your chatter are missing,
Spaces are just not right now you're not there.
I can't hear you counting and adding,
As you learn in your daily maths time,
There's no sorting shapes or using measuring tapes,
Or singing and chanting number rhymes.
At lunch the big hall sits all silent,
With the tables and chairs packed away,
They've all been cleaned, 'til they sparkle,
For you to sit at on your return one day.
Science is not being studied,
And PE lessons are now on hold,
History and geography are waiting their turn,
And no children's stories are being told.
Arts and crafts remain in the cupboard,
Musical instruments can't play by themselves,
Library books sit there unopened,
Gathering dust on the wooden book shelves.
What's still here are your wonderful workbooks,
Great displays with your work on the walls,
The photos of reading and writing,
And playing with big bats and balls.
And all the love that I have for you is going nowhere,
It's safely locked deep down inside,
So when all the germs have been sent far away,
You'll be here, safely back by my side.
Love from Mrs. Parkes 💖 April 2020
---
Request a paper copy
If, as a parent or carer of a pupil attending this school, you require a paper copy of the information on this website, we shall provide this free of charge.
---
Following our Ofsted inspection in November 2016, we are delighted to announce that the HMI (Her Majesty's Inspector) concluded that Wren's Nest continues to be a 'GOOD' school. The HMI has shared his findings with me in the following letter:
At Wren's Nest we want our children to love their learning and grow into capable, young people who have an excellent set of academic and social skills, giving them sufficient knowledge and competences for future learning and employment.
Wren's Nest school really is a community of learning for all ages. We offer lots of opportunities for parents and members of our community to take advantage of a full range of adult education courses. These courses are offered without charge, and are delivered in our dedicated adult training room.
If you are interested in finding out more about us, please continue to browse our website.
We pride ourselves on being a friendly and welcoming school – so please feel free to contact us on 01384 818515 and come and visit us.